GPI Particle Board is manufactured wood product. It is actually quite environmentally friendly, as it is built from compressed shreeded bagass (Sugarcane Waste) held together with a type of resin.
It is quite cheaper and dense than hardwood. Particle Board is enormously used in furniture design, flush door filler (For industrial purpose) and designer kitchens. Particle board gives industrial users the consistent quality and design flexibility needed for fast, efficient production lines and quality consumer products.
GPI Particle boards are available in plain form and laminated form.
Plain Particle Board
Some Salient Features:
Light Weight
High quality finishing
Cost efficient
Available thickness: 26 mm , Size 8×4 ft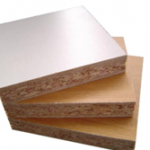 Pre Laminated Particle Board
Some Salient Features
Exterior Grade product
Elegant look
Light Weigh & supreme quality finishing
Available thickness: 9mm/12mm/17mm/25mm, Size 8x4ft
Click Here to view and download our product catalogues.
We are inviting Dealers and Distributors for GPI Particle Boards across various regions and zones of India. Interested client can Click Here for the inquiry.